Exide Energystore Flooded Batteries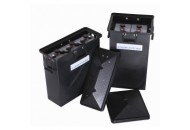 When it comes to Remote Area Power Systems (RAPS), reliability is critical. Power loss in remote areas can be costly and inconvenient.

The vulnerable component in RAPS is often the battery. It does not need to be!
The Energystore® battery from Exide Technologies has a proven track record in Australian RAPS.
It has been performing in remote and harsh areas of Australia for over 10 years. That's because it is designed and assembled in Australia specifically for our unique conditions.
Features:
Available in 4 volt and 6 volt batteries in trays with capacities up to 1800a/h @ 100hr rate
Excellent cycle (at 10 hour discharge)life:Large Electrolyte level indicator

1500 cycles to 80% DOD
2500 cycles to 50% DOD
3300 cycles to 30% DOD
>4500 cycles to 10% DOD

Robust tubular positive plates
Non conducting polyethelene outer tray
Easy to transport and assemble
Long life and low maintenance
Excellent prices
Optional automated/manual single point watering system available at extra cost
Optional lid for protection from the elements at extra cost
Optional maintenance kit available at extra cost
Ideally suited for solar, wind, micro-hydro, diesel and hybrid applications
Showing 1 to 8 of 8 (1 Pages)