JA Solar Panels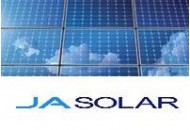 JA Solar Holdings Co. Ltd. Is a leading global manufacturer of high-performance solar products. Their products are deployed in residential and commercial projects as well as in terrestrial photovoltaic power stations.
JA Solar was founded in May 2005 and has been listed on NASDAQ since 2007. Since 2010 JA Solar has become a leading global manufacturer of solar cells. Besides its extensive experience in the global solar industry, JA Solar is taking advantage of its strength in PV-research and development in order to continue optimizing unique technologies in panel construction and cell production.
For the benefit of our customers and their projects, JA Solar places great emphasis on the efficient interconnection of the single solar cells in the module as this guarantees outstanding performance and therefore also a high performance class for all modules. Many years of experience in the industry, being aware of research and development as key to innovation, global customer service, continuity and stability – all these features make JA Solar a competent and reliable partner for you and your projects. We assist our customers right from the beginning: starting with information and consulting via realizing projects to services and maintenance – this is what a long-lasting partnership is all about and it also forms the basis for a high level of customer satisfaction, which is our aim at JA Solar.

Showing 1 to 5 of 5 (1 Pages)