Suntech Solar Panels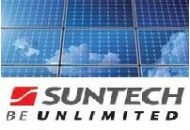 Suntech develops, manufactures, and delivers the world's most reliable and cost-effective solar energy solutions.
We aim to reach grid parity through solar energy by taking advantage of our pioneering R&D and customer-centric innovations. Our goal is to provide reliable access, from private residences to global corporations, to nature's cleanest and most abundant energy source.
Showing 1 to 2 of 2 (1 Pages)